Les Hameaux de Santa Giulia offers you unforgettable vacations giving high quality comfort in an astonishing and beautiful region with a splendid turquoise colored sea.
This delightful recently built residence is made of terraced houses lying only 300 meters from Santa Giulia beach, easily reachable by walk through a short path.
It's placed over a hill facing the enchanting Santa Giulia Gulf with a unique view on the wonderful bay.
Les Hameaux de Santa Giulia is situated in a 4 hectares maquis park and is able to satisfy the most demanding guests with its high standard quality.
Facilities: swimming pool with sun-beds, tennis grounds, children playground, unattended parking.
---
Villa F2: 38 mq
1 living-room with a sofa bed for two people, with 18mq veranda, 1 furnished kitchen with dishwasher, washing machine, oven, fridge with freezer, safe-deposit box, tv (with fee for Types A to E), 1 furnished patio or terrace with garden table, chairs and bbq, 1 bedroom with a king size bed, 1 bathroom: shower + sink, 1 indipendent room (toilet + bidet).
Servizi gratuiti: Una piscina di m. 15 x 8, due campi da tennis ed un posto auto numerato. Gli arrivi sono effettuati direttamente al residence, dove la persona incaricata riceverà ed accompagnerà gli ospiti alle rispettive ville.
Minimum stay: free. On request midweek arrivals admitted, if available
Reservations: downpay at the confirmation, the rest 20 days before arrival
Rental time: all year round


---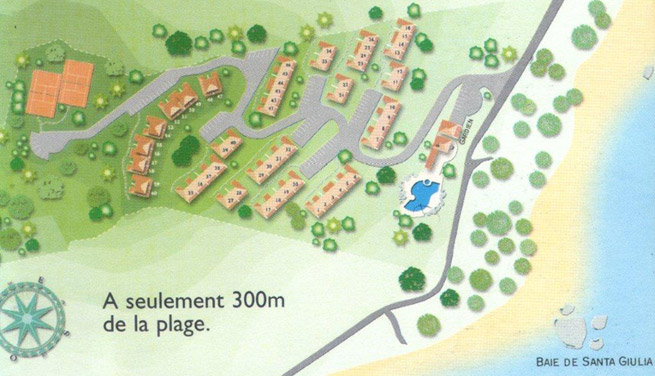 ---
HOW TO ARRIVE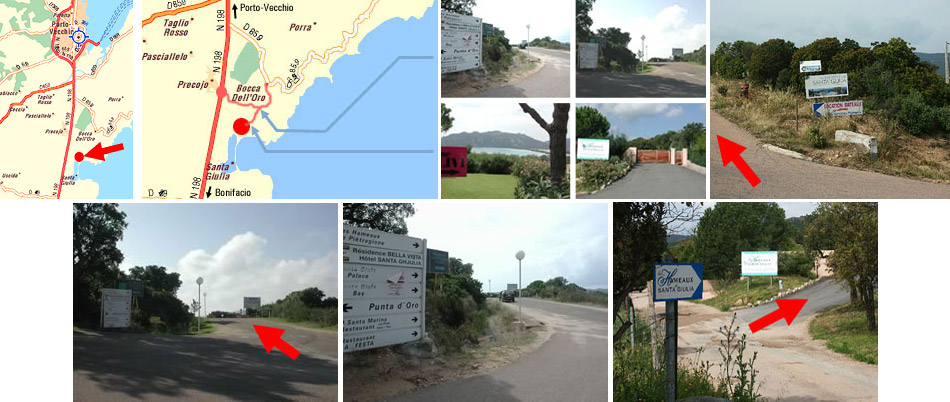 Residence Les Hameaux de Santa Giulia - Baie de Santa Giulia, 20137 Porto-Vecchio
Exit of Porto Vecchio, follow the state Rn 198 towards Bonifacio.
[N 41° 33' 45.2" - E 9° 16' 23.1"]

After about 2 km, take the road on the left for Bocca del'Oro.
[N 41 ° 32 '43 .3 "- E 9 ° 17'05 .6"]
The following is another crossroads on the left.
[N 41 ° 32 '37 .3 "- E 9 ° 16'54, 1"]
t the intersection of Bocca del'Oro take the right road towards Pietragione-Marina di Santa Giulia.
[N 41 ° 31 '59.9 "- E 9 ° 16 '49, 6"]
Just down the road from Marina di S. Giulia take the road to the right and you arrive at the entrance of the residence
"Les Hameaux de Santa Giulia"."Les Hameaux de Santa Giulia".

Figari Sud-Corse International Airport is 20 kilometers from Porto-Vecchio. Numerous regular flights from the various European capitals and French cities are provided throughout the year, with a more sustained frequency during the summer. A ferry service by car ferry also regularly exists between Porto-Vecchio and Marseille. In high season, a saturation of the airport of Figari can lead the users to choose Bastia and its airport ideally located to the south of the agglomeration. This places Porto-Vecchio about an hour and thirty minutes from Bastia. This option is preferred over Ajaccio for access amenities.